A new Medical Device 4.0 for the safe management of biological liquids has been designed as a result of our decades of experience
Read more
In operating theatres, intensive care units and hospital wards, the management of biological liquid waste has always been critical in terms of occupational safety and efficiency. Alternative solutions require repeated physical efforts and place personnel in danger of contamination, in addition to slowing down and/or disrupting medical activity. This is why In.Cas, which has been devoted to medical safety and prevention for more than 25 years, has developed a line of closed-circuit aspirators for large volumes of biological liquids.
S.P.R.I.Z. has been designed and manufactured to enable healthcare workers to handle organic liquids in total safety, in compliance with legal regulations.
The full traceability of all basic aspirator functions guarantees a new standard of safety.
BIOLOGICAL CONTAMINATION HAZARD: it eliminates the risk of biological contamination from contact with potentially contaminated biological liquids.
LIFTING AND MOVING: avoids continuous lifting and moving of liquid collection bags by operators.
DISINFECTION OF ASPIRATED LIQUID: the aspiration method of infected biological liquids activates a real-time disinfection system, with a precision peristaltic pump for the correct dosage of disinfectant.
EQUIPMENT AUTO-DISINFECTION: high level of auto-disinfection of the aspirator to guarantee maximum safety.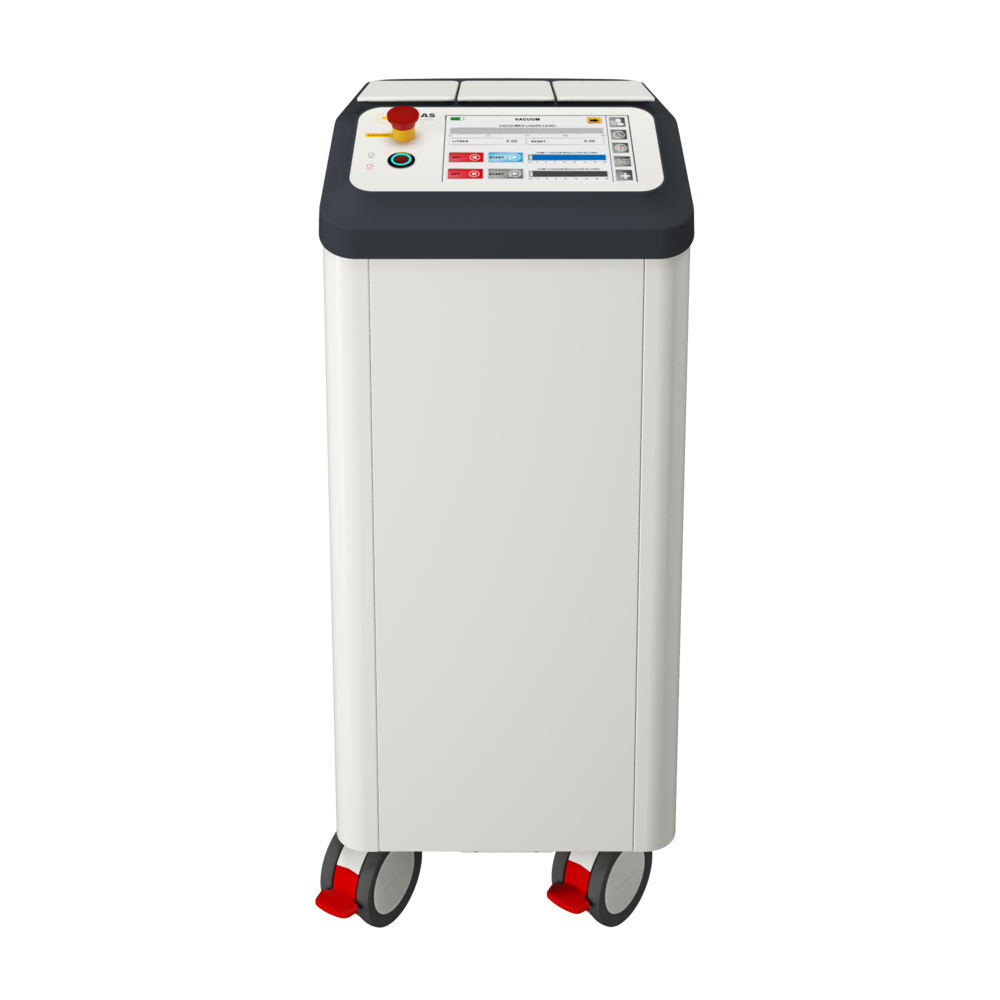 Operating Theatre: with the large 65-litre tank, during surgical procedures, healthcare personnel no longer need to replace the disposable containers normally used for liquid collection.
Urology Ward: in post-surgery, it enables rapid emptying of biological liquid collection bags, reduces personnel work time and increases efficiency and safety.
Intensive Care Unit: enables rapid emptying of ultra-filtrate bags directly from the C.V.V.H procedure equipment, without needing to replace them; reduces personnel work time and increases efficiency and safety.
Dialysis: enables emptying of bags containing residues of acid concentrates, avoiding inhalation of irritants; reduces personnel work time, disposal costs, and increases efficiency and safety.
Reduced costs: – significantly reduces the use of disposable containers, thus reducing operating costs
Sustainability: it is a "green" device, which reduces and limits the amount of special waste by using less plastic.
REDUCTION OF CROSS-CONTAMINATIONS
INCREASED SAFETY FOR USERS
FASTER WORKING PROCEDURES
The brand new 4.0 software monitors the correct operation of all basic functions of the device in real time to automatically report any faults to the central and peripheral technical service centre.
The latest generation technologies of the aspirator optimise the device's performance:
---
For checking the expiry date of the disinfectant, to exclude the possibility of operator error.
---
To capture and retain up to 99.9995% of airborne pollutants dispersed in the work environment, such as natural allergens, spores, pollen, viruses and bacteria.
---
To guarantee the hermetic seal of the device and convey the escape of airborne pollutants through the ULPA filter.